Mobile applications
What is Crontosign Swiss ?
4051
Back
CrontoSign is a modern and efficient authentication tool, for the security of your connection and for the validation of your operations on Netbanking.
CrontoSign allows you to scan a mosaic, from the camera of your smartphone or via an optical reader. This instantly generates a code which, once input in Netbanking, validates the authentication to Netbanking or the unusual payment.

The 2 CrontoSign Swiss devices: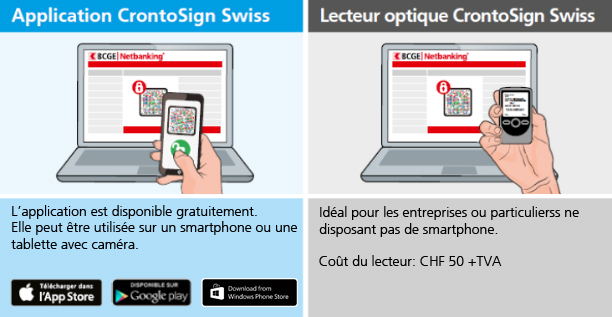 The advantages of CrontoSign Swiss:
The systematic validation of new payments and the verification of payment data ensure that your transactions are more secure.
The application works without an internet connection or a telephone connection. CrontoSign Swiss can be used simply anywhere in the world.
Can be used on several smartphones and Netbanking contracts.
No limitation of use (no renewal).

It is possible to use a smartphone (CrontoSign Swiss application) or an optical reader.